Now more than ever we are conscious about the air that we breathe. Travel Nasal Filter can help block airborne particles, and is comfortable enough to be worn with your facemask for extra protection when in social surroundings.
Nasal Medical is an award-winning Irish company that specialises in nasal devices for healthy and comfortable breathing. Our newest product, Travel Nasal Filter is a discreet and comfortable filter that fits just inside the nose to help block airborne and contaminated particles from being inhaled through the nasal passages. Made from electrostatically-charged and easy to breathe through filter material, this nasal filter will help protect you while you travel or visit densely populated areas. Bear in mind that this filter will only help block particles through the nose, if you have difficulty breathing through the nose, take the correct precaution and use a face mask if needed.
THE PROBLEM
It is well known that the prevalence of allergic diseases has increased in recent decades in the industrialised world. Exposure to environmental pollutants may partially account for this increased prevalence. In effect, air pollution is a growing public health problem.
Similar complaints are voiced over nasal filtration products that offer relief from allergens, pollutants, or dust. Consumers also find that these products are not discreet enough for them to wear in public. They want an effective product which is comfortable and discreet.
FREQUENTLY ASKED QUESTIONS
THE SOLUTION
Nasal Medical Travel Filter helps block allergens from entering the nose. Theses airborne allergens (particle matter) include: Pollen, Flu, Sand, Pet Dander, Mould, Dust and other airborne contaminates. Using anatomic design, Nasal Medical has taken patient anatomy to create a device that will adjust to fit the user's nose size comfortably and discreetly.
HOW TO USE THE NASAL FILTER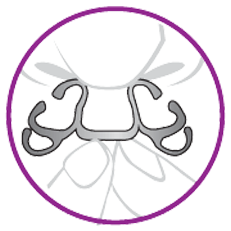 Step 1
Grip travel filter by the bridge section.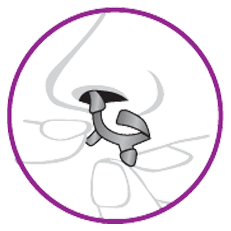 Step 2
With your fingertip, gently push front arm into tip of nostril.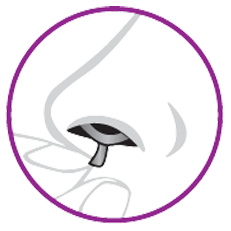 Step 3
With your fingertip, gently push back arm into rear of nostril.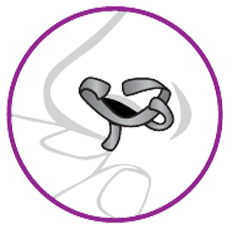 Step 4
Use your forefingers to adjust snoring aid until fully installed and comfortable.
"To be completely honest my mind was blown with how effective the filter was. I have had a long road with allergy treatments with varying success. Currently I am on a high dose of antihistamine and this is my first summer after completing sublingual immunotherapy. Even after all that I still suffer a lot with nasal congestion especially at night. I arrived home from work last week to find the package had come in the post and I gave it a go that evening. I was surprised how comfortable it was to wear, I could only kinda feel it up my nose and I had immediate opening of my nasal passage. Not to over inflate the experience but it was the first time in 23 years that I could breathe clearly through my nose. I wore the filter to bed as I often suffer with issues while sleeping and nasal congestion. I slept soundly and after the initial few minutes of putting the filter in I couldn't feel it. I wore them to work and had an amazing week of clear breathing and practically no sneezing."
– Michelle
"The Allergy Nasal filters are fantastic. I can't recommend them highly enough. I've suffered with hay fever for many years and have tried lots of different treatments so now that i am pregnant I was very worried about how I'd manage to control my hay fever. The filters are beyond brilliant, they stop so much pollen and since I've started using them my symptoms are so much better. Normally I take a lot of medication to treat my hayfever so having a drug free solution is great. Definitely a must buy"
– Fiona
"Gardening is my passion but was limited to what I could do without taking medication. Now I can work in the garden with the help of these fantastic filters. I'm no longer taking medication which sometimes have bad side effects for me."
– Marie
"Having never used this device before I had a brief look at instructions before my flight. Once I boarded the aircraft and sat down, out came the nasal filter. I was happy to discover four filters in the packet. Having already read the instructions, I re-read them whilst I inserted the filter with ease. I sat back, with no discomfort at all to my nasal passage and enjoyed the flight. When we landed I was able to use my last finger to catch the bridge of the device and take out with a tissue. No mucus etc. Easy to dispose of in the airport toilet bin. I would definitely recommend for flying because:
1) I felt assured I had not inhaled any unwanted airborne particles on board the flight, hygienic
2) Good instructions, easy to insert
3) Comfortable
4) Good value
5) Discreet"
– John
"I suffer from very severe hayfever and certainly filter helps – I try not to forget to wear them. Thank you Nasal Medical!"
– Liza
"This is a great product and I believe it will be very successful. I wish you all the very best."
– John, Dublin
TIRED OF FEELING THE EFFECTS OF FLYING OR TRAVELLING TO A CITY WITH AIR POLLUTION?
Try the new Travel Filter from Nasal Medical. The filter helps protects you from contaminated air, drug free and is comfortable & discreet.
Nasal Filter to help block contaminated air
Discreet & comfortable
Easy to use
Convenient for travel
Use each filter 5 times
For use of over 12's
BUY NOW
EXPLORE OUR OTHER PRODUCTS
Sign Up to Our Newsletter for the latest news from Nasal Medical